8 Things to Know about the Feast of the

Transfiguration
What does the word "

transfiguration

" mean? The word comes from the Latin roots trans- ("across") and figura ("form, shape"). It thus signifies a change of form or appearance. The Armenian word for Transfiguration is Aylagerbootyoon (Այլակերպութիւն) or Baydzaragerbootyoon (Պայծառակերպութիւն), because of Christ's luminous appearance.
Where did it take place? Mount Tabor, the holy mountain of Galilee.
Who witnessed the

Transfiguration

? Peter,

James

and John.
What happened? On the holy mountain, Jesus' disciples saw Him assume a luminous appearance with a blinding white light; the Old Testament figures Moses and Elijah emerged from the mists of time to confer with the Lord; and the voice of God boomed from out of the heavens to affirm Jesus as his Son. The disciples heard a voice from the heavens, saying, "This is My Beloved Son, with Whom I am pleased. Listen to him." It was then that they they finally understood that Jesus' predictions of His sacrifice would soon be fulfilled

Why do Moses and Elijah appear on the mountain? Moses and Elijah represent the two principal components of the Old Testament: the Law and the Prophets. Moses was the giver of the Law, and Elijah was considered the greatest of the prophets. In appearing with Jesus, they show that the Messiah is here, and that He is the Son of God to whom the Father himself bears witness, the Lord of all creation, of the Old and New Testaments, of the living and the dead.

Where can I find it in the Bible?

This scene can be found in four different places in the New Testament: Matthew 17:1-8; Mark 9:11-7; Luke 9:29-36; and Peter II 1:17-18.

What happens in Armenia on this day?

In Armenia, this feast day is also known as Vartavar (Festival of Roses) after the old pagan feast, which it replaced. Vartavar marked the harvest each year and was traditionally associated with the goddess Asdghig. To replicate Asdghig's bathing, people would sprinkle each other with rose water and hold a special festival of roses during this joyful feast. Today in Armenia, people still maintain the tradition of splashing each other with water on Vartavar. Children and young adults are usually seen ambushing passerby with buckets of cold water—a welcome surprise on hot summer days.
What does it mean for us today? The

Transfiguration

of Christ reveals to us our ultimate destiny as Christians, the ultimate destiny of all men and all creation to be transformed and glorified by the majestic splendor of God Himself.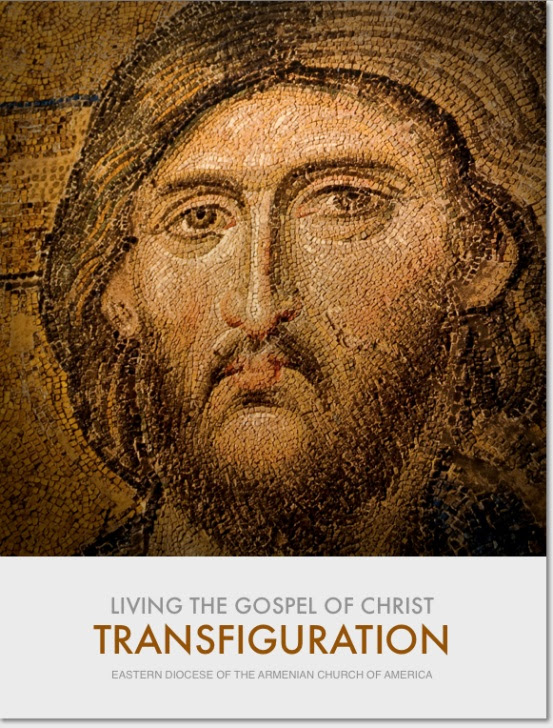 Download the Transfiguration iBook on your iPhone or iPad!
This Sunday is the Feast of Transfiguration. Download the iBook, developed by the Eastern Diocese, and embark on a journey through the story of Christ's miraculous transformation on Mt. Tabor.
Click here to download: https://itunes.apple.com/us/book/transfiguration/id656246730?mt=11